Planning Your Decking Project
Designing and building an outdoor deck requires extensive research, planning, and thoughtful decision making. As a homeowner, you need to determine the size of deck, layout, budget, materials, and whether you are up for a DIY job or want to hire professional deck builders in Melbourne Eastern Suburbs. The entire process of building a deck can be challenging. However, considering these seven factors can help you avoid mistakes before planning, designing, and building a deck.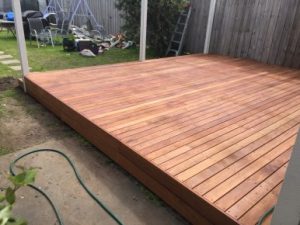 1. Purpose and Function
Australian homeowners enjoy warm weather throughout the year. Those who want to make the most of such an atmosphere and increase the outdoor living experience can opt for a deck. Building a deck is one of the best ways to extend your outdoor areas and increase the visual appearance of the exterior. However, you realise the purpose and function of the deck.
For instance, the deck could function in your backyard for entertaining purposes, outdoor dining, outdoor privacy, as a place for gardening or even for a swimming pool surrounding. 
2. Layout
The next critical factor for your decking project is the layout. When deciding on a layout of your decking project, always start with listing the types of activities that may need to be accommodated. There should be a sufficient amount of space for the dining table and chairs. Additionally, the deck should be large enough to accommodate your friends and family easily. You can create a rough outline (using stakes and a rope) of the space in your outdoor area to determine the right layout for your decking project.
3. Location 
Most homeowners consider building decks connected to their back door. However, you must know that decking options are not limited to the backyard. Decks can be connected to any level or part of your home, or you can also create them separately. The location of your deck will depend on your home, backyard, and city code. For the same reason, you may want to talk to a professional deck builder.
Searching for "best deck builders near me"? Talk to one of our professionals on 0417 535 032.
4. Stairs
When planning your decking project, you may want to consider whether you want to add sets of stairs to the ground level. The option of adding sets of stairs is only applicable if you build your deck near ground level. You can also plan to add stairs around the entire perimeter, opening up the deck more and allowing access to you.
5. Covered vs Uncovered
Another critical consideration is concluding whether you want a covered deck or an uncovered deck. If you want to build a deck to grow a plantation, you might want to consider opting for an uncovered deck; If you want a shady place to cool off on a hot Sunday afternoon, consider a covered deck. Most homeowners also consider opting for pergolas as they offer partial shade and allow you to grow plantations.
6. Railings
There are various options available for railings – wood, glass, metal, cabling, vinyl, or a combination of these materials. Choose an option that can enhance the outlook of your outdoors and offer better functional safety features. Ground-level decking doesn't require railings. You must consult with your local codes or check with your contractor to understand the requirements around railings on a deck.
7. Build-Ins
When planning your decking construction in Melbourne, you might want to add more functionality to your deck. Storage options can also be considered when building a deck. You can choose to store garden tools and supplies, children's outdoor toys, outdoor patio cushions, outdoor furniture and accessories on your deck.
Our deck builders can construct and install hardwood timber decking, suitable for creating stunning decks. Stop googling "deck contractors near me" because your decking experts are right here! For more information on our decking solution, call us on 0417 535 032 today.