Avoid Hidden Pergola Costs
Most homeowners are fond of the idea of installing a pergola in their backyard or front yard for both aesthetic and functional purposes. A well-constructed and maintained pergola can provide complete protection from the harsh, direct sunlight and allow you to enjoy the surroundings easily. These stand-alone structures can be a unique, versatile addition to your outdoor area and elevate the entire look of the space in a snap. 
With such unique features and exceptional benefits, you might already want to start searching for a pergola construction near me! Although you might be excited to install a pergola in your backyard, there are a few critical factors that you should consider to avoid spending an exorbitant amount on installation. 
In this article, we have highlighted the top five tips to help you avoid hidden pergola costs and make an informed decision.
DIY Work or Professional Assistance?
Before embarking on the construction/installation journey, it is imperative to choose between two options – whether you want to opt for DIY work or consider an expert's assistance. While both the options have their own pros and cons, you must consider one to finalise the pergola building budget. DIY work can allow you to enjoy the pergola building process and ensure complete control over the materials required. Since you will be in charge of building the pergola, you can allocate material and finalise how much to spend on pergola construction. However, DIY pergola building requires experience in the construction industry and adequate knowledge. Besides, you need to consider measurements and paperwork to build a pergola. Therefore, it is ideal to consider the assistance of an expert pergola builder in the construction or installation process.
Do Your Research Before Making Any Decision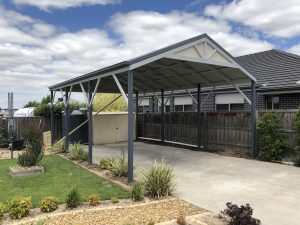 Whether you plan for a DIY pergola construction or consider an expert's help, you should always do your own research before making any decision. If you want to involve an expert pergola builder in your project, check out local pergola construction companies near you. Consider searching "pergola builders near me" on the search engine to get more options. You can also consider asking your friend or neighbour – who has a pergola installed in their backyard – to know who built the stand-alone structure for them. Finalise the pergola construction company you want to work with and ask for a quotation.
Be Aware of Estimate Cost
Several pergola construction companies provide an estimated cost upon asking for a quotation. Often such estimated fees carry hidden costs, which can later burn a hole in your pocket. You might be surprised to see the actual cost (provided during quotation) varying from the final amount mentioned in the bill. You can easily avoid this by mentioning the exact size and design of the pergola you need for your property. Ensure you let them know all the specific details about your pergola building idea to prevent them from providing you with an estimated cost. If they provide you with an estimate quote, ask for a fixed price instead. If they refuse to give you a fixed price, look for another pergola construction company.
Set Realistic Expectation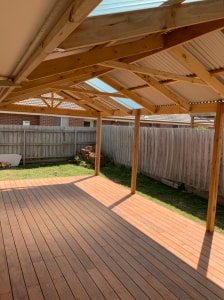 Often homeowners want to build a pergola based on some unique design they have seen in a magazine or Pinterest. However, you should set a realistic expectation with pergola building because it will help the builder design according to your functional and aesthetic purpose. Besides, pergola builders check your property first before letting you know whether the design is possible or not.
Searching for "deck builders near me prices"? Call us on 0417 535 032.
Be Upfront About Your Budget
While discussing your pergola building project with a professional company, make sure you are upfront about your budget. Let your pergola builder know about the budget and design you have in mind to allow them to build a structure according to your need. Knowing your budget and design can also reduce the chances of paying for hidden costs.
Searching for "custom pergola builders near me"? Get in touch with us! Call us on 0417 535 032 for a pergola construction and installation that suits your aesthetic and functional needs.