Pro Carpenter for Your Home Renovation
Deciding on a home renovation can be your biggest decision. Most television shows and home décor magazines make the process look and feel easy. However, the reality is quite the opposite. As the famous saying goes – looks can be decisive. Similarly, the behind-the-scenes process of home renovation goes unnoticed, making you feel the project can be a piece of cake. One of the prime reasons these glamorous television shows and home décor magazines look wonderful is because the entire project is managed and overviewed by professional carpenters. From indoor or outdoor construction to installation of doors and windows, these professionals are responsible to handle the entire home renovation project and ensuring you complete peace of mind. However, choosing the best and complete carpentry service for your remodelling project can be challenging, especially if you're not aware of the process.
If you contemplate whether a carpenter is a right professional for a remodelling job, here are five reasons you should consider hiring them for your home renovation project!
1. Get Expertise
Home renovation projects consist of various aspects that require complete professional assistance and expertise. You may wonder – DIY home improvement is super easy. So, why hire an expert? One of the prime reasons to hire a professional carpenter is to obtain overall expertise for your home renovation project. Without prior knowledge and experience, you are likely to make some mistakes on installation or improvement jobs. These tiny errors may further cost a fortune in the future. By hiring a professional carpenter, your home will benefit from their skills, knowledge, and years of experience. These experts have years of experience in remodelling homes and are well-versed with every step involved in a home renovation project. An experienced carpenter will share their expertise and knowledge to ensure the project suits your functional or aesthetic goals.
Looking for a carpenter and decking construction in your locality? Call us on 0417 535 032!
2. Equipped with the Right Tools.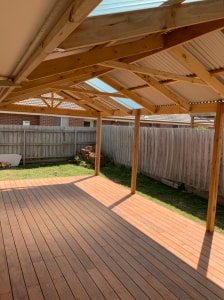 You might feel like kick-starting your remodelling project the moment you watch a television show or go through any home décor magazine. If so, you should think twice before initiating the project. Why? The number one reason is access to quality and appropriate tools. Home renovation projects require the use of various tools and equipment to complete the job – from taking measurements to checking inches and corners. These tools are essential to ensure every installation or repair is done right. You might not have access to these tools. Hence, you require the assistance of local carpentry service. A professional carpenter has access to various tools and speciality items that ensure correct installation and repairs. These carpenters are prepared and equipped with things required to complete a home renovation project.
Want to know the carpentry cost for deck building in your area? Talk to one of our experts!
3. Well-Versed with Rules and Regulations.
To undertake a home renovation project, you need to be well-versed with your local laws and requirements surrounding residential remodelling. Learning about these legal ramifications can be challenging and complicated. Therefore, it is always better to hire a carpentry service near me. Licensed carpenters have to follow necessary rules, regulations, and zoning laws to keep their licenses active. These professional workers take care of all the paperwork and legal requirements, including necessary permits. So, rest assured about starting your renovation project with all legal aspects.
4. Time Management
Hiring a skilled and experienced carpenter to ensure your home renovation project will be completed on time. These professionals are well-versed in understanding the scale and complexity of any home renovation project. Their years of experience and knowledge allow them to complete the project on time without facing any hindrances.
Big Azz Construction assists with general carpentry and building timber carports in Melbourne. Call us on 0417 535 032 to kick-start your home renovation project.