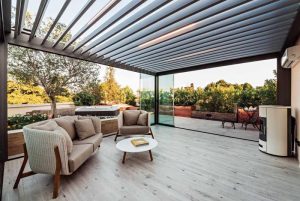 As the seasons change, and the weather gets better, it's time to think about your outdoor space. Your backyard, patio, or balcony has the potential to become the perfect venue for summer fun and festive gatherings. In this post, we'll explore how to prepare your outdoor entertaining area, and why expert guidance from Big Azz Constructions can make all the difference.
How can you create an outdoor space that's perfect for summer gatherings?
To craft an ideal summer entertaining area, consider comfortable seating, shade options, and lighting to create a welcoming and enjoyable atmosphere for your guests.
What are the benefits of expert guidance from Big Azz Constructions when planning your outdoor space?
Our experienced team can assess your space and budget, helping you make informed decisions about design, materials, and layout to ensure your outdoor space is both functional and beautiful.
Why is it essential to prepare your outdoor area now for the summer and festive season?
Planning ahead allows you to avoid the last-minute rush and ensures that your outdoor space is ready to host memorable summer gatherings, adding value and joy to your home.
The warm months are just around the corner, and your outdoor space is waiting to shine. To get your area ready for the upcoming summer and festive season, here are some valuable tips:
Comfortable Seating: Ensure you have enough comfortable seating options for your guests. Consider lounge chairs, outdoor sofas, or even picnic tables to accommodate different types of gatherings.
Shade Solutions: Don't let the sun spoil your outdoor fun. Install umbrellas, pergolas, or shade sails to keep your space cool and comfortable, no matter how high the temperature climbs.
Outdoor Lighting: Extend your outdoor enjoyment into the evening by adding outdoor lighting. String lights, lanterns, and pathway lighting can create a magical atmosphere for your summer nights.
Now is the perfect time to get a head start on preparing your outdoor space for the warm summer months and the festive season. With expert guidance from Big Azz Constructions, you can ensure your outdoor area is both functional and beautiful.
Don't wait until the last minute to get your space ready for memorable gatherings. 
Contact Big Azz Constructions today at 0417 535 032 or email us at bigazz@outlook.com, and let us help you create the outdoor entertaining area of your dreams. Enjoy the summer and festive season to the fullest with a stunning outdoor space that will be the envy of your guests.